Open fire Island dinner :
Barbecue at Chalet Robinson
An opportunity to enjoy a barbecue with quality meat, drinks and music, on Robinson Island. It's our pleasure to invite you to enjoy great company and outdoor dining in the fresh, summer air!
The menu will depend on seasonal availability and our Chef's selections. Expect dishes like:
MEAT
SPARERIBS
SPECIAL CHALET-STYLE SAUSAGES
MARINATED CHICKEN
ENTRECÔTE STEAK
LAMB SKEWERS
Boudin blanc sausage
Sauces
BEARNAISE
GREEN PEPPER
MUSHROOM
FETA YOGHURT
Chimichurri
SIDE DISHES
PARSNIP MOUSSELINE
AUBERGINE CAVIAR ROASTED
CAULIFLOWER
Butternut
GREEN ASPARAGUS
Porto Bello
POTATOES WITH THYME AND ROSEMARY
QUAIL EGGS
CORN
VEGAN AND VEGETARIAN
Halloumi
VEGETARIAN BURGER
Falafels
MUSHROOMS
Tofu
Desserts
A SELECTION OF SHOT GLASS DESSERTS
A truly delectable barbecue for only 40 euros per person
Savour this event from 6.30 pm onwards on Wednesday
10 August, 17 August, 24 August, 31 August & 7 September 2022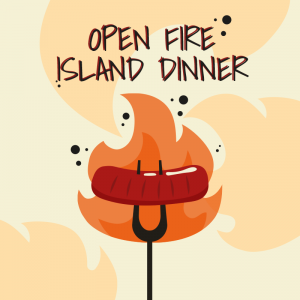 PLEASE JOIN US ROUND THE FIRE
Reserve your place now. Don't miss this unique barbecue experience at the Chalet!
Places are limited, so book now and enjoy an unforgettable evening!